How to get more organic traffic and visibility to your charity website
Want to know how to get your charity more visibility? We've put together our top tips on getting more online traffic to your website.   
Many charities manage their paid digital marketing and social media in-house, with a few who outsource it to an agency. However, far fewer have someone or a team dedicated to their SEO.  
But what is SEO?  
 Short for 'search engine optimisation', it's the process of boosting your website's visibility to make it rank higher on search engine results pages, like Google. The higher a page ranks, the more clicks and visits your website gets. This is known as organic traffic, and usually accounts for more than 50% of the total traffic (or visits) made to a website. 
Why is it important? 
In the long term, SEO often provides far greater and more cost-effective traffic when compared to other online marketing activities, such as paid advertising. Our own analysis of 25 charity websites revealed that over 83% of them had more traffic coming in from organic search when compared to paid traffic! 
Optimising your charity's website by implementing some basic SEO techniques will help drive organic traffic to your website, helping you raise both awareness and boost donations to your cause.  
Without further ado, here are some changes you can make today to improve your charity website's organic traffic:  
Make use of search data and SEO tools 
To make informed decisions on how to improve your website's traffic, it's important to know what's already working well (and not so well), so you can make necessary changes.  
First, you need the right tools in your SEO toolkit. Both Google Analytics and Google Search Console are free and typically take no longer than 10 minutes to install on your website. With both these tools in your box, you can track your search data effectively. 
There are also third-party tools that work alongside the above and can give you additional insight into your website's search engine ranking as well as  detailed information on your competitors.  
We recommend the following:  
Conduct keyword research 
Once you have these tools at the ready, you'll need to identify which keywords and pages you already have ranked on Google. Then, you need to find out what your main competitors are ranking for. From there, you can identify any keywords that aren't currently being used by your competitors and use them to inspire new content for your own website. This is an excellent opportunity to create charity content for your website that stands out from the crowd.  
Conducting a thorough keyword research for your charity is one of the highest leverage activities you can do and is the linchpin to your website's success.   
Google loves websites which focus on a specific subject and cover the subject in as much detail as possible. With detailed keyword research, you'll be able to build a robust content plan for the next few months, covering as many relevant keyword phrases as possible.  
Not sure how to conduct keyword research? Start by analysing your competitors. 
First, look at what keywords your website is already ranking for – then, using search marketing tools like SEMrush, find your competitors. You should look for websites that are ranking for similar search terms to your website. From there, you can see if they are also ranking for keywords that you're not ranking for. This can inspire new keywords and content for your charity website.  
Try to identify any top-level "seed keywords" (these are usually one-two word phrases relevant to your charity) that people often search for. For example, 'animal charity' or 'cancer support'. You can then look for longer phrases, that are less competitive but still 'googled' regularly. Mapping out all related terms to your charity and your potential donors is a great starting point. You'll be able to see how much traffic these specific topics get and how competitive they are for building content around.  
Hit the top spots on Google's results page 
Once you know what keywords you are already ranking for and their current search position, you can re-optimise these pages to boost their position on the Google results page. If your website appears higher up on Google's results page, you're more likely to attract more visitors to your site.  
If your website features in the top 20 results (the first two pages of Google's results page), Google already believes your page is relevant and just needs a little tweaking to rank in the top spots. With just a few changes, you could see massive results in just a few days.  
Being in the top three results makes a huge difference. Although data varies, it's reported that the number one spot on Google gets about 39.6% of the search traffic for each specific keyword phrase. Number two gets around 18.4%, and number three gets about 10.1%. Being in those top spots will drive huge amounts of traffic to your website.   
Here's how to get your website up there with the best…  
Include keywords  
To rank highly, your website must regularly feature your specific keywords. To check what keywords your website is ranking for, head to SEMrush. 
In SEMrush, and underneath Organic Research, click on "view details" to view the top Organic Keywords: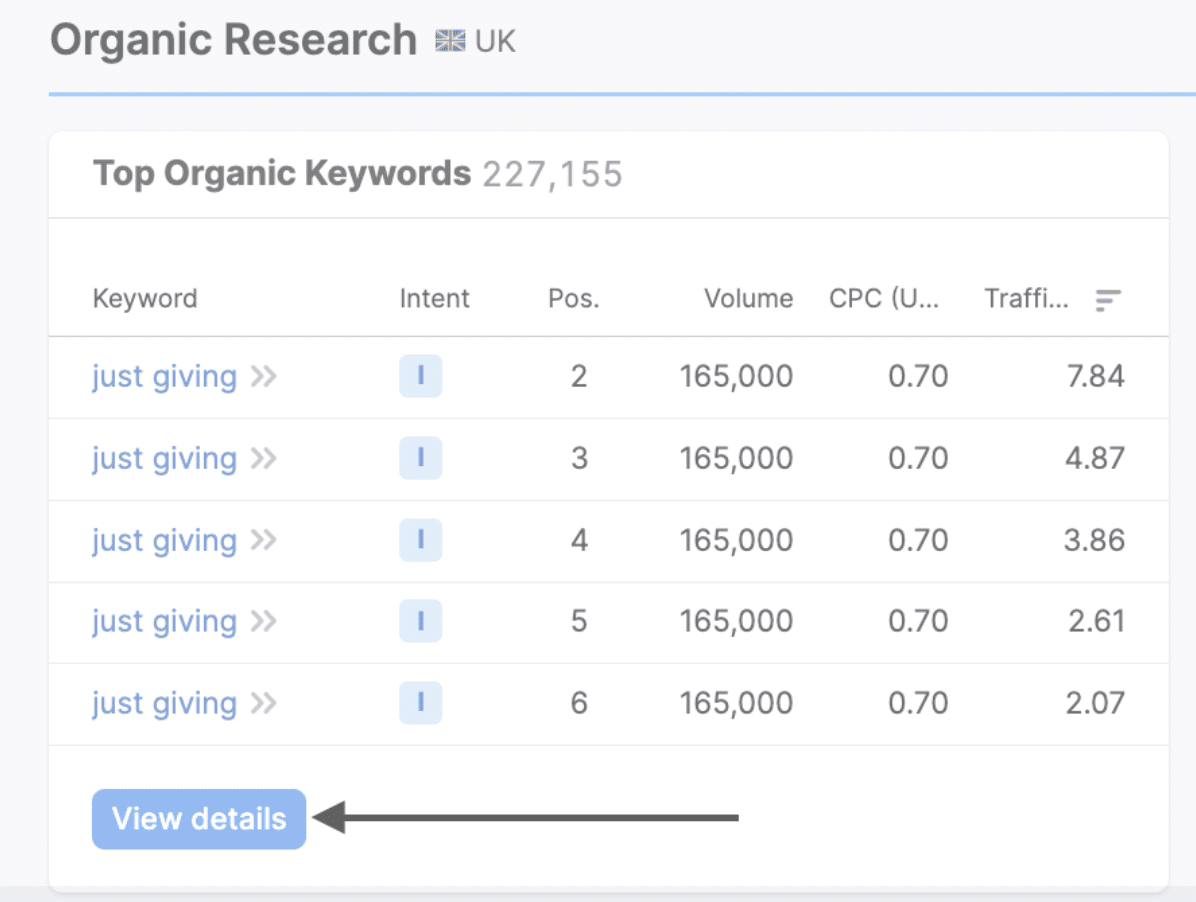 Next, click on "Positions" and enter the "Custom range" 2 to 20. Then click the blue button "Apply". This will now show you what your website is ranking for.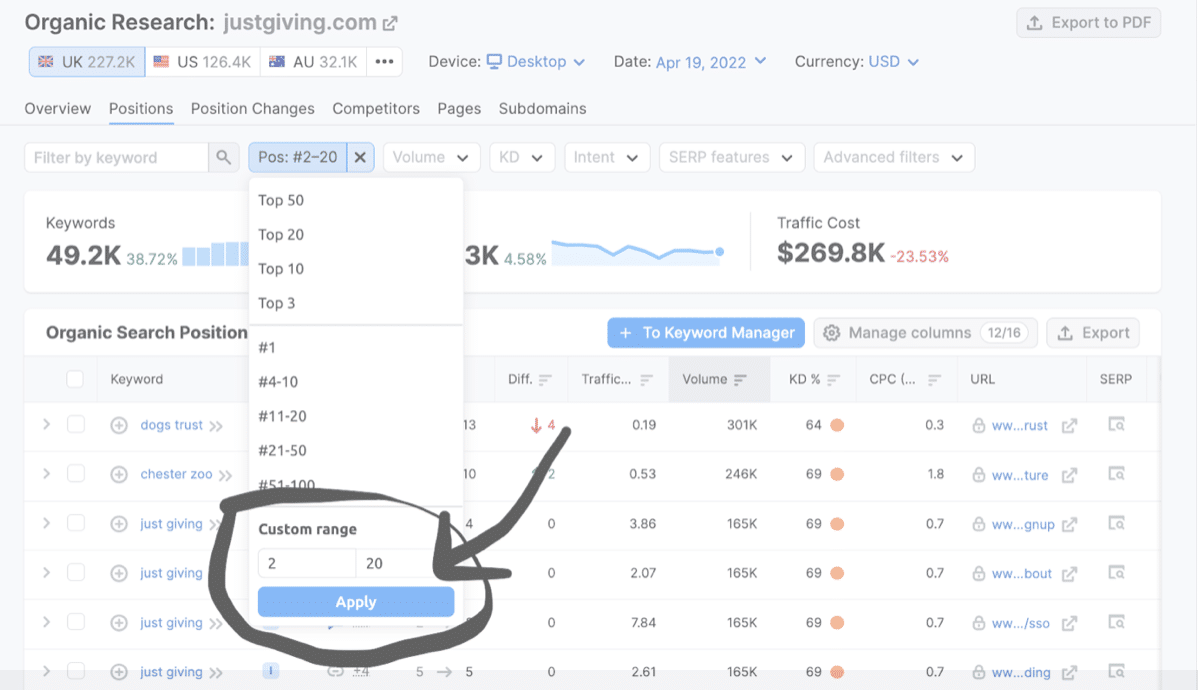 Once optimised, the URLs shown here will rank higher for your keyword phrases than they were previously. Work your way through the list of keywords and optimise the pages for the specific keyword. You can do this using Frase.io. Using advanced A.I allows you to work out what terms need to be included on the page and the average word count of the top 20 competing results. Ensuring the inclusion of keywords will help boost your website ranking on Google's results page.  
Feature internal links and seek out back links  
Another way to boost your charity websites search engine ranking is through links. Your website needs to have internal links – these are links that direct visitors to different pages on your website. Make sure the anchor text is engaging and relevant to the page – avoid generic terms like "click here".   
Once satisfied with your internal links, you should seek out quality backlinks from 3rd party websites (possibly via an outreach campaign). This will draw in a wider audience from other websites. In theory, if you have more high quality and relevant links than your competitors, your website will rank higher than competitors'.
Create high-quality, unique website content 
Typically, the more content your website has, the greater your website will rank online. It is a best practice to create as much content as possible on your subject matter. You want Google (and the other search engines) to see your website as a leading authority and hold your website in high regard.  
However, as ever, quality is just as important as quantity. Your website content must be unique – anything duplicated can damage your charity website's rankings. Use Grammarly.com, Copyscape.com or Siteliner.com to identify duplicate content and prioritise putting your own spin on it and making it your own.  
It's also best practice to ensure your titles, H1 tags, meta descriptions and internal links are all unique. The more unique your content is, the better Google rewards you.  
Separate your content into pages 
Consider breaking up your content. Have separate pages dedicated to things your audience regularly searches for, rather than trying to combine everything onto a single page. Often, the more pages you have, the better. Larger websites frequently outrank smaller, content light websites.   
Consider creating content clusters and content hubs (E.g. a FAQs page) where you cover specific topics and then have particular articles that explain each of those topics in more detail. 
Keep your content up-to-date  
Don't forget to regularly update your content. Keep track of each piece of content you produce, especially anything that may become outdated or is time sensitive. Regularly update your pages and add further information to them over time – Google will reward fresh and up-to-date content. Tip: where possible, put a reminder in your calendar to review and update existing pages every few months.  
Get featured on Featured snippets  
Sometimes, when you 'Google' a question (usually beginning with "how", "why" or "when"…), a specific answer will pop up in a highlighted box of text, right at the top of the results page. These are known as 'Featured snippets', and feature above the rest of the results. This is known as 'Position 0' – and featuring here can often drive more traffic to your website. 
Want your website to appear in that top spot?  
Tools like SEMrush and ahrefs.com can tell you which keywords are likely to generate these search snippets. You can then plan content that answers these regularly 'googled' questions. If Google feels your website answers a specific question well, your site might just end up in 'Position 0'.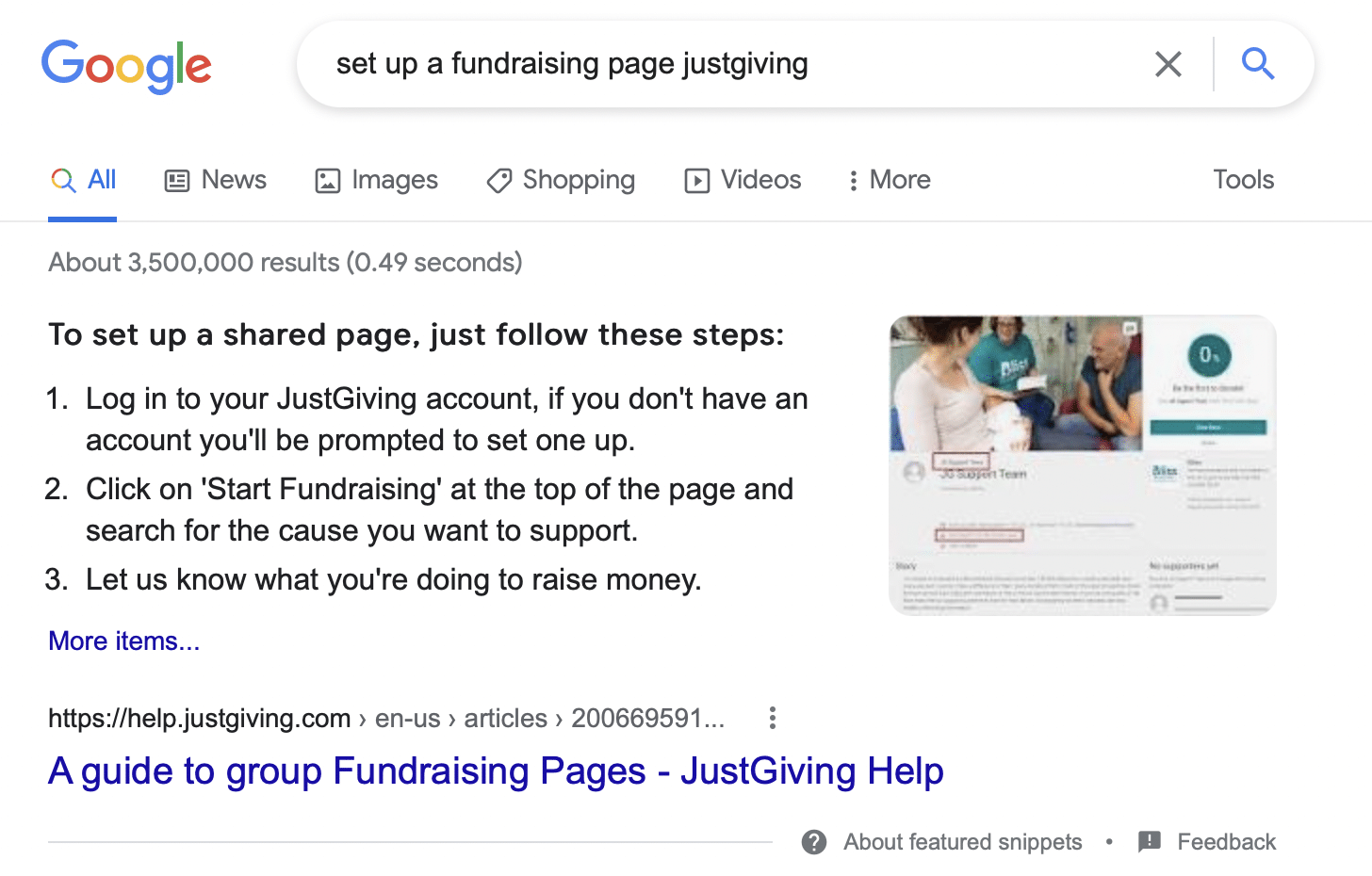 One of the best ways to do this is by featuring an FAQ page – with answers to specific questions related to your charity that people often search for. This is one of the quickest ways to get more visibility and traffic from Google. 
10. Check your website's structure and performance  
Run your website through a tool like Screaming Frog SEO Spider to get an overview of how well your website is structured. Look out for broken links, duplicate titles, and link errors, all of which are particularly important to fix if you want Google to see your website as a trusted resource and promote it effectively. The data you'll receive from this tool will be invaluable and allow you to make informed changes to your site. 
Google also rewards faster websites that provide an enjoyable, pain-free user experience. Slow websites that don't load correctly will drive visitors away from your website. Most websites now get their traffic from mobile – so ensure your website runs effectively on mobile devices. Google's free PageSpeed Insights is an excellent tool for this.  
Once you have set up Google Search Console on your website, review your Core Web Vitals data to keep on top of the health of your website and ensure you are doing everything within your power to rank well online.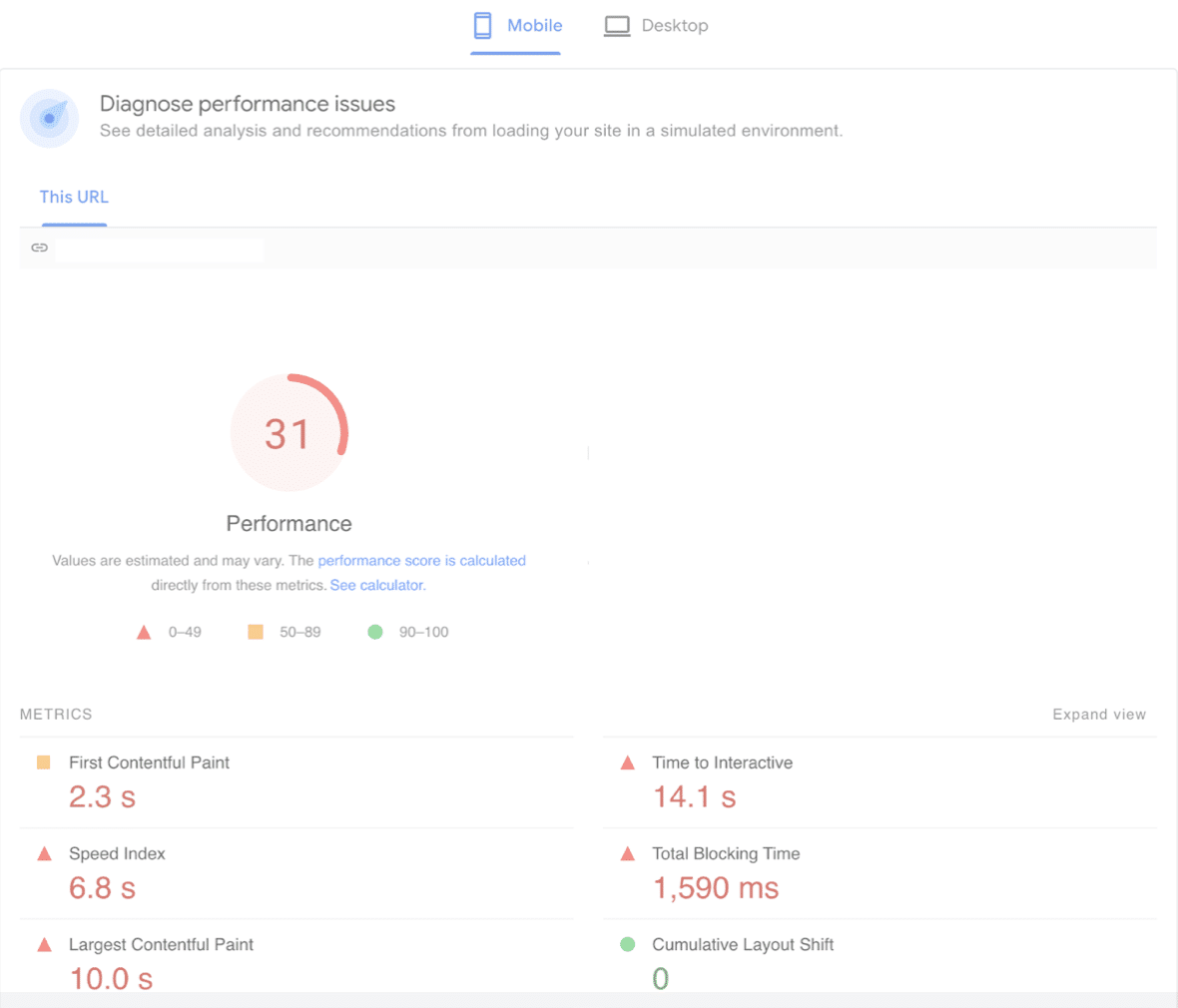 Bonus tip! 
Google Ad Grants is a site where you can be awarded up to $10k per month. Whilst SEO can take some time to build and get working, paid search can be an incredible way first to identify keywords and confirm they convert well for you before you spend a lot of energy and resources optimising them for SEO. If used effectively, paid search can really add to the content creation process and allow you to build traffic in the short term and ongoing in partnership with your SEO efforts.   
We hope you learned something from our top 10 tips for optimising your website's SEO and driving more organic traffic to your charity website and have inspired you to review your website and make those all-important changes to drive visitors and donors to your website.  
One-third of donors directed half their giving to disaster relief | Philanthropy news
Last year, 37 percent of American donors gave half or more of their charitable contributions to disaster relief efforts, and 64 percent gave to a charity they had never supported before, a survey commissioned by Vanguard Charitable finds.
Conducted by the Harris Poll on behalf of Vanguard Charitable, the survey of more than 1,300 American donors found that the top reasons American donors gave to disaster relief included wanting to assist those impacted by humanitarian crises (46 percent), feeling overwhelmed by a situation and wanting to help (33 percent), seeing charitable giving as the only way they could provide support (30 percent), and having a personal connection to the disaster/crisis (30 percent). The survey found that donors who contributed to disaster relief efforts gave more overall, meaning that disaster relief giving did not take away from, or occur in place of, ongoing giving. 
"From COVID-19 to a devastating humanitarian crisis caused by the war in Ukraine, we've seen donors respond to disaster relief needs in inspiring and meaningful ways," said Vanguard Charitable president Rebecca Moffett. "In fact, this data reflects that disaster relief support is an integral part of the giving landscape, often increasing total generosity as donors look to give when and where support is needed most. And because the money in donor-advised funds has already been set aside for charitable purposes, donations from DAFs tend to be more responsive in moments of crisis, and more resilient during moments of economic uncertainty."
(Photo credit: Getty Images/Drazen Zigic)
Trust in nonprofits fell slightly last year, survey finds | Philanthropy news
While there is room for U.S. institutions across the board to increase public trust, a majority of respondents believe nonprofits will do what is right for society, a survey conducted by Independent Sector finds. 
Conducted in February in partnership with Edelman Data & Intelligence, the third-annual Trust in Civil Society survey found that 56 percent of Americans said they trust nonprofits, down 3 percentage points from the 2020 benchmark study (59 percent). Trust in philanthropy edged down from 36 percent to 34 percent during the same period. According to the survey, financial well-being and education are major drivers of trust, and trust of nonprofits among women fell during the pandemic.
Given the findings, Independent Sector recommended that nonprofits work to make greater progress to support and strengthen the country, for example by leveraging trust in the social sector to strengthen U.S. democracy, deepening engagement with communities and institutions, and upholding public expectations of government accountability.
"Increasing public trust of institutions and the social sector is a pressing issue for the U.S. We all benefit from strong public trust," said Independent Sector president and CEO Daniel J. Cardinali. "Trust is the priceless currency for nonprofits, philanthropies, business charity programs, and all of us to build a healthy, equitable society. We see what happens when trust breaks. Our 2022 Independent Sector Trust in Civil Society report elevates important data and recommendations for conversations about how the social sector can engage more deeply and do better so everyone in our country thrives." 
(Photo credit: Getty Images/SDI Productions)
Digital, other channels of giving are expanding, study finds | Philanthropy news
Emerging trends in the United Kingdom and Brazil reveal an expansion of digital and other types of channels for giving, including online giving, crowdfunding, charity rounding up, and social impact publishing, a new research series from the Indiana University Lilly Family School of Philanthropy at IUPUI finds.
The research series, Digital for Good: A Global Study on Emerging Ways of Giving, builds on the school's Global Philanthropy Environment Index and Global Philanthropy Tracker and will be released in phases over the next five months. The first two studies examine philanthropic engagement in Brazil and the UK prior to and throughout the COVID-19 pandemic, with profiles of China, India, Kenya, Singapore, South Africa, and South Korea to follow.
Based on an analysis of three case studies in Brazil, the first profile found that prominent emerging ways of giving include charity rounding up, crowdfunding, and social impact publishing, which involves the production of inspiring, revenue-producing editorial content. Donations collected through rounding up for charity via Arredondar increased from BRL1,091 in 2013 (equivalent to $590 in 2021, adjusted for inflation) to more than BRL1.6 million in 2020 (equivalent to $330,186 in 2021, adjusted for inflation). In addition, the study found that the most successful initiatives prioritized transparency and accountability in giving.
Based on an online survey of nearly 3,000 individuals in the UK, the profile found that prominent expanded methods of giving include online giving and crowdfunding. Among donors interviewed between May and July 2021, 60 percent reported that gifts they had made in the past year had been made online, with the most common way being through a third-party app. In addition, researchers found that 63 percent of people who used social media to request donations also made requests in person.
"The results of the first two country profiles suggest an evolution in giving practices and highlight a significant expansion of digital giving practices and peer-to-peer giving," said Amir Pasic, the Eugene R. Tempel Dean of the Indiana University Lilly Family School of Philanthropy. "While these findings are the first in a series, the documented growth in digital giving and shifting donor expectations in the UK and in Brazil reinforce existing evidence that digital practices can help democratize the practice of philanthropy. Digital innovation makes philanthropy accessible and fosters greater transparency and accountability for how gifts lead to impact."
(Photo credit: Getty Images)