Product Update: November 2021 | JustGiving Blog
Welcome to our JustGiving product update. Our teams have been working hard behind the scenes to bring the latest and most useful innovations to life, to help you do more of the amazing work you do!
Here's the new things we have to share with you this month…
Swiftaid
Did you know there is over £1.5 million in Gift Aid missed every day? We want to help charities across the UK claim Gift Aid more easily – so we have partnered with Swiftaid to help make missed Gift Aid a thing of the past.
Swiftaid is an independent and unaffiliated national database of personal Gift Aid declarations and taxpayer data. Charities need to sign up to it via the Swiftaid website and then donors can opt-in to the service when they are making their donation on JustGiving. Once registered, all future donations will connect automatically to Swiftaid, so donors don't have to repeat entering their details, making sure Gift Aid is never missed.
Register for the Swiftaid service and learn more about the JustGiving and Swiftaid partnership.
Downloadable donation receipts
It's not unusual for your donors to donate multiple times to fundraisers and causes around the world. So we've taken the opportunity to update our 'Donation History' feature that is available in all JustGiving accounts.
When a supporter of your charity completes their donation, as well as receiving an emailed donation receipt containing all the relevant data for that donation, we will now also archive all their past donations should they need to access them online in their JustGiving account.
This means that donors can now scroll to any past donation to see details on the amount they donated and the cause that the donation went to. They can also download and print off a PDF version of their donation receipt. This is particularly useful for donors who need to file their taxes and include details on their donation activity.
Here's a handy help article about downloadable donation receipts that you can share with your donors.
Giving Checkout – new features
We have added some new exciting features to Giving Checkout, thanks to user feedback we received.
Charities using Giving Checkout are now able change the colour of the donation button and amounts to match their brand colours.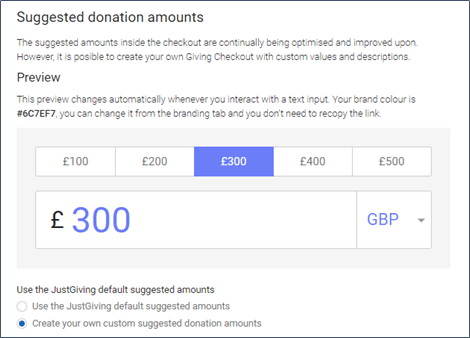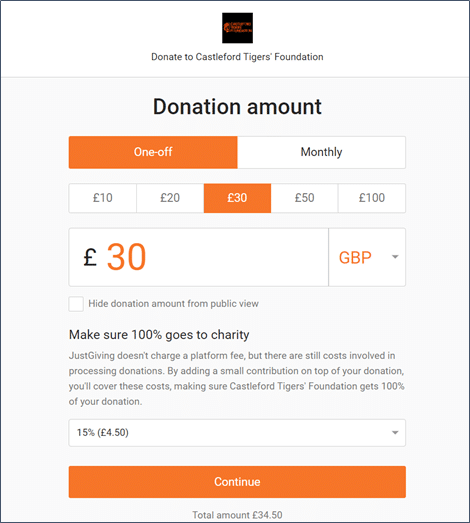 Recently, we introduced a feature to allow charities to set suggested amounts on Giving Checkout, to enable donors to give specific amounts of money. Now, we have also added the ability to use text prompts to accompany the suggested amounts – so you can explain what impact these amounts can achieve. For example, you can write that a donation of £10 will buy X for your service user, or a donation of £50 will pay for Z.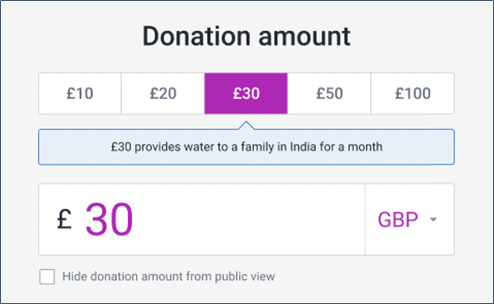 Hear more from our product team
You can watch our product team share the latest news and updates from JustGiving at a recently recorded webinar – register for our latest product update briefing and watch on demand.
One-third of donors directed half their giving to disaster relief | Philanthropy news
Last year, 37 percent of American donors gave half or more of their charitable contributions to disaster relief efforts, and 64 percent gave to a charity they had never supported before, a survey commissioned by Vanguard Charitable finds.
Conducted by the Harris Poll on behalf of Vanguard Charitable, the survey of more than 1,300 American donors found that the top reasons American donors gave to disaster relief included wanting to assist those impacted by humanitarian crises (46 percent), feeling overwhelmed by a situation and wanting to help (33 percent), seeing charitable giving as the only way they could provide support (30 percent), and having a personal connection to the disaster/crisis (30 percent). The survey found that donors who contributed to disaster relief efforts gave more overall, meaning that disaster relief giving did not take away from, or occur in place of, ongoing giving. 
"From COVID-19 to a devastating humanitarian crisis caused by the war in Ukraine, we've seen donors respond to disaster relief needs in inspiring and meaningful ways," said Vanguard Charitable president Rebecca Moffett. "In fact, this data reflects that disaster relief support is an integral part of the giving landscape, often increasing total generosity as donors look to give when and where support is needed most. And because the money in donor-advised funds has already been set aside for charitable purposes, donations from DAFs tend to be more responsive in moments of crisis, and more resilient during moments of economic uncertainty."
(Photo credit: Getty Images/Drazen Zigic)
Trust in nonprofits fell slightly last year, survey finds | Philanthropy news
While there is room for U.S. institutions across the board to increase public trust, a majority of respondents believe nonprofits will do what is right for society, a survey conducted by Independent Sector finds. 
Conducted in February in partnership with Edelman Data & Intelligence, the third-annual Trust in Civil Society survey found that 56 percent of Americans said they trust nonprofits, down 3 percentage points from the 2020 benchmark study (59 percent). Trust in philanthropy edged down from 36 percent to 34 percent during the same period. According to the survey, financial well-being and education are major drivers of trust, and trust of nonprofits among women fell during the pandemic.
Given the findings, Independent Sector recommended that nonprofits work to make greater progress to support and strengthen the country, for example by leveraging trust in the social sector to strengthen U.S. democracy, deepening engagement with communities and institutions, and upholding public expectations of government accountability.
"Increasing public trust of institutions and the social sector is a pressing issue for the U.S. We all benefit from strong public trust," said Independent Sector president and CEO Daniel J. Cardinali. "Trust is the priceless currency for nonprofits, philanthropies, business charity programs, and all of us to build a healthy, equitable society. We see what happens when trust breaks. Our 2022 Independent Sector Trust in Civil Society report elevates important data and recommendations for conversations about how the social sector can engage more deeply and do better so everyone in our country thrives." 
(Photo credit: Getty Images/SDI Productions)
Digital, other channels of giving are expanding, study finds | Philanthropy news
Emerging trends in the United Kingdom and Brazil reveal an expansion of digital and other types of channels for giving, including online giving, crowdfunding, charity rounding up, and social impact publishing, a new research series from the Indiana University Lilly Family School of Philanthropy at IUPUI finds.
The research series, Digital for Good: A Global Study on Emerging Ways of Giving, builds on the school's Global Philanthropy Environment Index and Global Philanthropy Tracker and will be released in phases over the next five months. The first two studies examine philanthropic engagement in Brazil and the UK prior to and throughout the COVID-19 pandemic, with profiles of China, India, Kenya, Singapore, South Africa, and South Korea to follow.
Based on an analysis of three case studies in Brazil, the first profile found that prominent emerging ways of giving include charity rounding up, crowdfunding, and social impact publishing, which involves the production of inspiring, revenue-producing editorial content. Donations collected through rounding up for charity via Arredondar increased from BRL1,091 in 2013 (equivalent to $590 in 2021, adjusted for inflation) to more than BRL1.6 million in 2020 (equivalent to $330,186 in 2021, adjusted for inflation). In addition, the study found that the most successful initiatives prioritized transparency and accountability in giving.
Based on an online survey of nearly 3,000 individuals in the UK, the profile found that prominent expanded methods of giving include online giving and crowdfunding. Among donors interviewed between May and July 2021, 60 percent reported that gifts they had made in the past year had been made online, with the most common way being through a third-party app. In addition, researchers found that 63 percent of people who used social media to request donations also made requests in person.
"The results of the first two country profiles suggest an evolution in giving practices and highlight a significant expansion of digital giving practices and peer-to-peer giving," said Amir Pasic, the Eugene R. Tempel Dean of the Indiana University Lilly Family School of Philanthropy. "While these findings are the first in a series, the documented growth in digital giving and shifting donor expectations in the UK and in Brazil reinforce existing evidence that digital practices can help democratize the practice of philanthropy. Digital innovation makes philanthropy accessible and fosters greater transparency and accountability for how gifts lead to impact."
(Photo credit: Getty Images)