People in the News (11/07/2021): appointments, promotions, obituaries | Philanthropy news
Borealis Philanthropy has announced the appointment of ASHLEY CRAWFORD STARCK as program officer for the Black-Led Movement Fund and ALICIA BELL as director of the Racial Equity in Journalism Fund. Crawford Starck previously served as program associate on the Robert Wood Johnson Foundation's Healthy Communities team and worked with Organizing Neighborhood Equity (ONE DC) through Black Organizing for Leadership and Dignity (BOLD). Bell previously worked at Free Press for five years, starting as an organizing manager and later launching Media 2070, an initiative to open up access to capital for media makers of color to tell their own stories.
The Daniels Fund has announced the appointment of LAURA GIOCOMO RIZZO as senior vice president of communications. Prior to joining the Daniels Fund, Rizzo served as the senior vice president of external affairs for the Denver Metro Chamber of Commerce. She succeeds BO PERETTO, who was recently named to the newly created position of SVP of legacy and donor intent.
The Open Society Foundations has named NATALIE SAMARASINGHE as its first global director of advocacy, effective January 18, 2022. Samarasinghe joins the foundation with more than fifteen years of advocacy and management experience, most recently as CEO of the United Nations Association-UK, where she advised NGOs and governments on advocacy strategies and was a co-founder of both the 1 for 7 Billion campaign for transparency in international appointments and the Together First movement for inclusive global governance.
The Pew Charitable Trusts has announced the appointment of RALPH LESLIE as executive vice president and chief operating officer, effective November 29, and chief financial officer, effective January 2022. Leslie joins Pew from Northwestern University, where he served as CFO and associate dean of finance and business operations for the Weinberg College of Arts & Sciences. He previously served as chief financial officer and treasurer of the Obama Foundation.
The Walton Family Foundation has appointed CHRISTIE YANG as general counsel. Yang, who has been serving as interim general counsel, will guide the foundation's use of philanthropic tools to maximize the strategic impact of the foundation's program areas and departments. She previously was associate general counsel at the Brookings Institution and, prior to that, a litigator at Morrison & Foerster LLP.
Big Brothers Bis Sisters of America has announced the election of TONY COLES to its board. Coles is iHeartMedia's division president of Metro Markets and president of the Black Information Network, which he helped launch in 2020 as the first and only audio network that provides 24/7 news and objective information with a full focus on the Black community.
The Chesapeake Bay Foundation has announced that KEISHA SEDLACEK joined its Federal Affairs Office as federal legislative and policy attorney as of October 12. Sedlacek comes to CBF from the Humane Society Legislative Fund, where she lobbied the administration and Congress on animal welfare issues, and, prior to that, was an associate attorney with Hall & Associates, where she focused on challenging nutrient limits in EPA-issued wastewater and stormwater permits.
The Dallas Museum of Art has announced the appointment of SALLY PIETSCH as chief financial officer, effective December 1. A financial professional with forty years' experience, more than fifteen of which include financial oversight at museums, Pietsch most recently served as CFO at the Family Place and World Affairs Council of Dallas/Fort Worth; she previously worked at the Perot Museum of Nature and Science, Frito-Lay, PricewaterhouseCoopers, and Blockbuster Entertainment.
LeadingAge, an association of nonprofit providers of aging services, has announced the election of Volunteers of America national president and CEO MIKE KING as board chair. King has served on the LeadingAge Board of Directors since 2015 will serve a two-year term starting in January 2022. He succeeds Carol Silver Elliott, president and CEO of Jewish Home Family.
Legal Momentum, (formerly known as the NOW Legal Defense and Education Fund) the nation's first and longest-serving legal advocacy organization for women, has announced the addition of four members to its board: SHERYL KOVAL GARKO, MEREDITH MOORE, NANCY B. SALTZMAN, and CATHERINE ZINN. Koval Garko is a partner at the Boston office of Orrick and the global chair of Orrick's Women's Initiative; Moore is global diversity, equity and inclusion director at Weil, Gotshal & Manges LLP; Saltzman is senior vice president, general counsel, and corporate secretary of Logicalis, Inc.; and Zinn is chief client officer for Baker Botts, where she oversees growth, strategy, and client development.
NYC Pride has announced the appointment of SANDRA PÉREZ as executive director. A longtime nonprofit executive, Pérez has served as an advocate for Latinx/e arts and culture and has served in multiple development roles for the Ms. Foundation for Women and as a program auditor and grant panelist for a variety of entities in the arts and social justice sectors such as the National Endowment for the Arts and the National Council on the Humanities. DAVID A. CORREA, who served as interim executive director, will remain with NYC Pride as director of entertainment and events.
Survey finds weakening donor sentiment in 2022 | Philanthropy news
Fifty-four percent of donors in the United States have a negative view of the direction of the country—alongside growing concern with inflation and recent losses in the stock market—signaling weaker donor sentiment in 2022 and driving near-term pessimism among donors, a report from Dunham+Company finds.
Based on an online survey conducted in April 2022 of 1,400 American donors who gave at least $20 to charity in the past year, the report, Donor confidence falters in light of economy and inflation (5 pages, PDF), found that despite a 15-percentage point increase from last year in the share of respondents saying they did not "feel good about" the direction the country was going in, 98 percent said they intended to continue giving—up from 97 percent in July 2021. The share of donors expressing caution about their giving rose modestly, to 63 percent from 59 percent. Among donors who said they would continue to give, 21 percent intended to give more (compared with 19 percent in 2021), 24 percent planned to give less (compared with 21 percent), and 55 percent intended to give the same (compared with 61 percent).
According to the report, the number of donors who viewed recent stock market losses as determinant of future giving had nearly tripled since last year, rising from 7 percent to 19 percent overall, and even more acutely among donors 45 and older: 23 percent for Gen X donors (up from 8 percent in 2021) and 21 percent for boomers (up from 6 percent). This shift is mirrored in households making $100,000 or more, where 17 percent (up from 5 percent) view the performance of the stock market as a determinant. While the report did not provide data on donors under the age of 45, it noted that boomers, who tend to give more overall, "expressed significantly less caution about giving than their younger counterparts."
The report suggests that worries about inflation and the potential for an economic downturn are increasingly affecting donor sentiment. Over half of donors (53 percent) were unsure of the direction of the economy or believed it would decline in the coming year (compared with 36 percent last year). Among donors who expect a downturn, 92 percent believed a turnaround would take more than a year (up from 72 percent in 2021), while those believing a turnaround would take two years or more rose to 54 percent (up from 40 percent a year ago). In 2021, 74 percent of donors indicated "the economy" and "personal financial situation" as reasons for giving less. For the most recent survey, Dunham added "inflation and the increased cost of living" as a factor. All told, these three factors accounted for 89 percent of the reasons for giving less in 2022.
(Photo credit: Getty Images/Pineapple Studio)
Charity Of The Year: Past Winners
With the Charity of The Year nominations just around the corner, we thought we'd take you on a trip down memory lane and revisit some of our past winners. We caught up with the incredible teams at Derian House Children's Hospice and the British Hen Welfare Trust, to find out just how much the award meant to them!
To find out more about how to nominate your charity for the Charity of the Year Award, head to the bottom of this page.
The British Hen Welfare Trust (2018 Winners)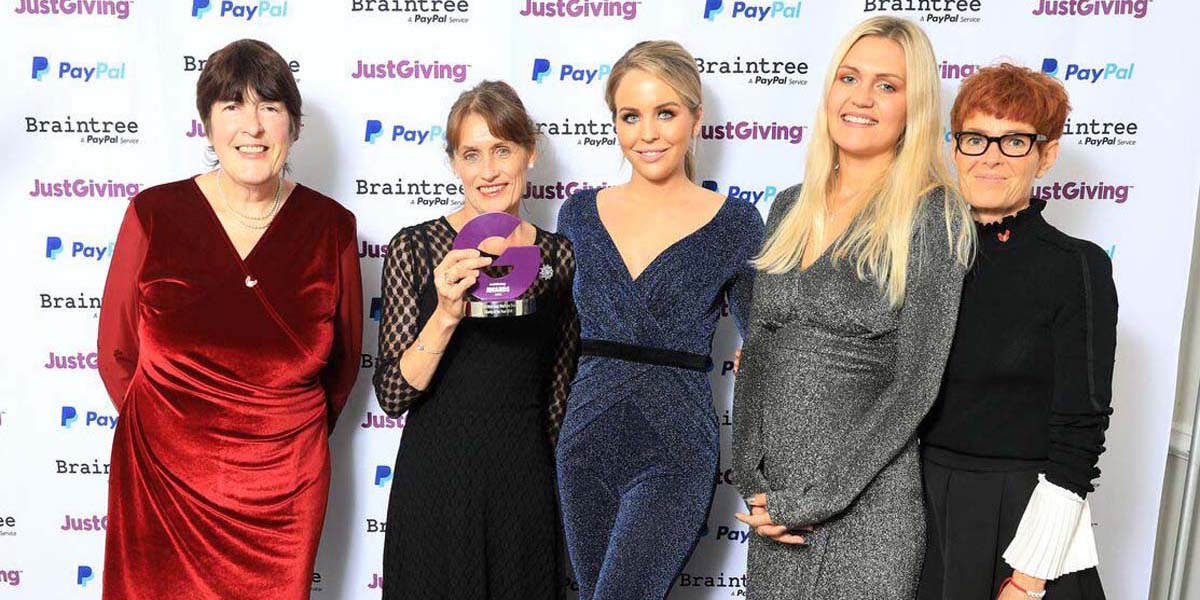 The British Hen Welfare Trust were crowned Charity Of The Year back in 2018 – after making the top three, they received the most nominations and were presented with their award at a glittery awards ceremony in London.
Since 2005, the charity has been rescuing hens from slaughter and re-homing them as pets throughout the UK. Working with farmers in the egg industry, they've re-homed an incredible 850,000 hens to date! The founder, Jane Howorth, received an MBE for her work, after bringing about a ban on battery cages in 2012.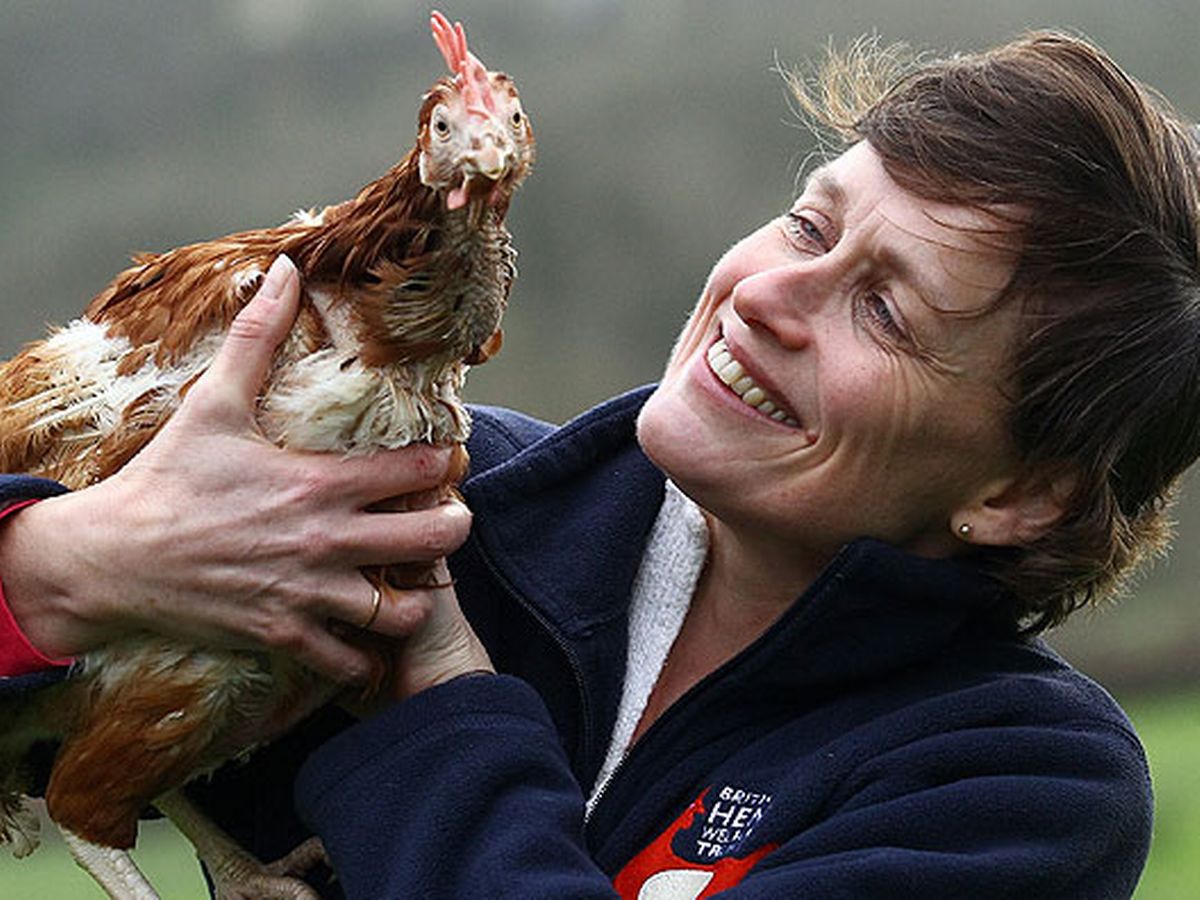 We recently reached out to the team at BHWT to ask them about their experience receiving a JustGiving Award.
"As a charity that is run by a fairly small team, it was simply phenomenal to be recognised by the UK's biggest fundraising platform and we were overwhelmed to have so much support from the public who nominated us for the award.

We may be small, but we make a big impact, since 2005 we've saved over 874,000 hens from slaughter. To be named Charity of the Year is a testament to that hard work and the successes achieved by our staff, volunteers, and supporters around the country.

The past couple of years have been tough for all charities, including our own, but we continue to save around 50,000 hens from slaughter every year. Since winning the award, we've developed more ways to improve education about pet hens, built a new Hen Central, and reached new audiences internationally. Being named Charity of the Year was a great honour, and still fills me with pride."

Jane Howarth MBE
Founder of BHWT
Find out more about the British Hen Welfare Trust and donate here.
Derian House Children's Hospice (2019 Winners)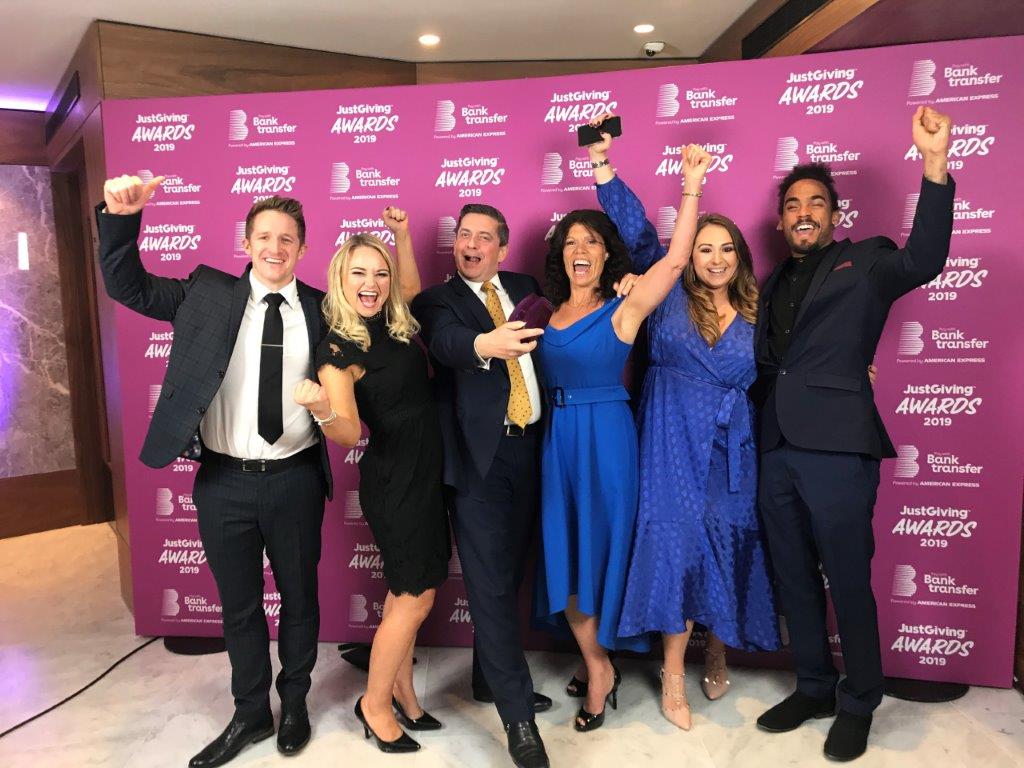 Our 2019 winners, Derian House Children's Hospice, work tirelessly to help children and young people, whose lives are too short, to make happy memories in an environment of fun, respect and outstanding care.The care they provide is free for families, but costs around £5.7 million to run every year – only 17% of the funding they need comes from the government. They rely entirely on donations from supporters for the remaining 83%. They provide vital support to young people and their families – offering palliative care, respite stays, day care, holidays and end of life support.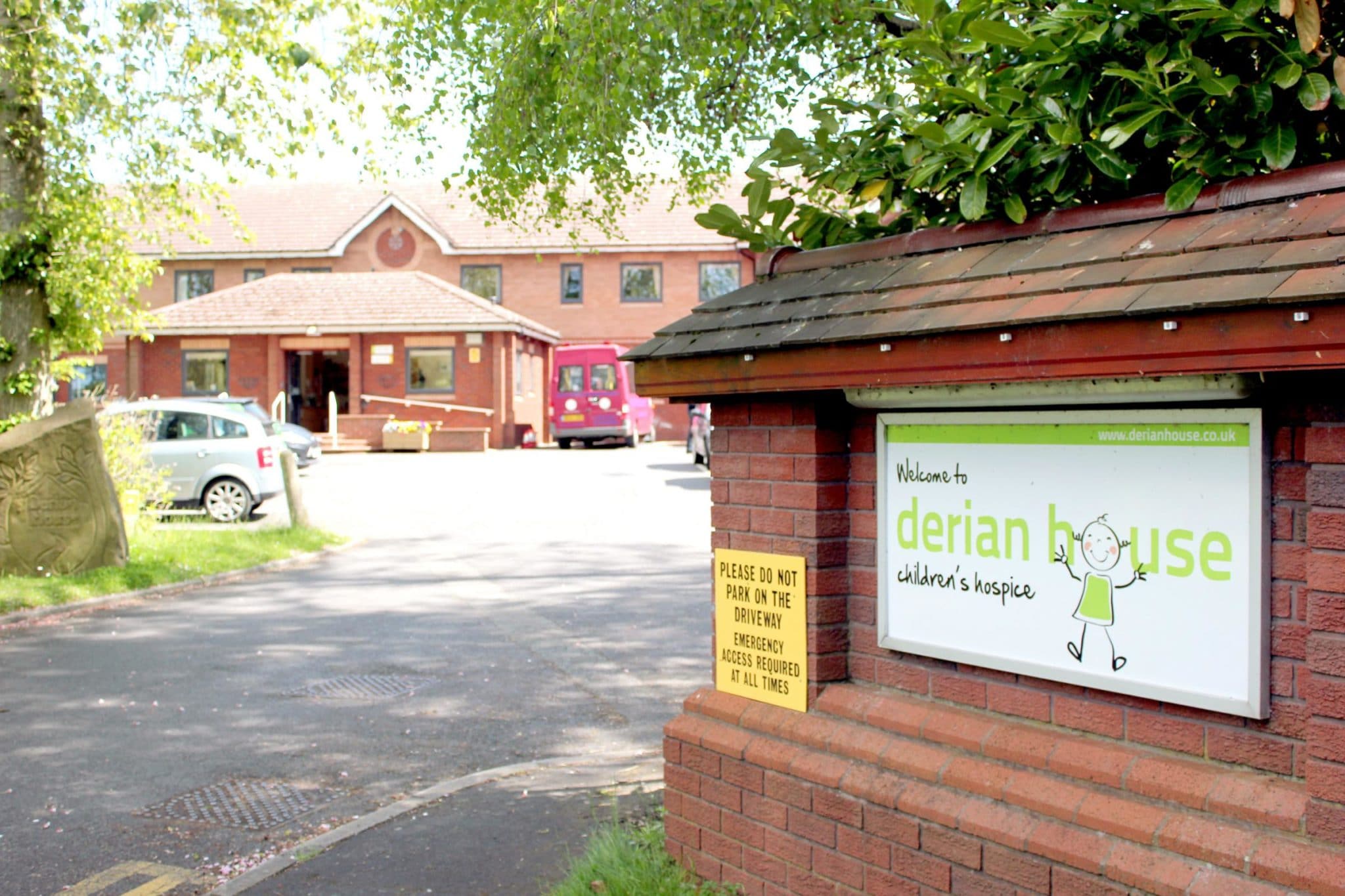 We'll let the team tell you a little more about the award, and how much it meant to the charity…
"Derian House Children's Hospice winning the JustGiving Charity of the Year Award is one of the achievements we're most proud of. 

That same year we had been rated outstanding by the Care Quality Commission (CQC) and had just completed a million-pound refurbishment of our hospice and winning the award felt like the icing on the cake. 

It not only gave us brilliant exposure, meaning that we attracted new donors and were able to reach new families with our services, but it also felt like a real chance for our staff, volunteers and the children we look after to feel proud of everything we do at Derian House. 

The awards night itself was so exciting. We travelled down to London for the night and were so honoured to be at an event alongside such inspirational and wonderful people, as well as celebrities and sporting legends. There was a real feeling in the air of everyone celebrating each other's achievements, which was just lovely. 

At Derian House, we display our JustGiving Award in the reception of the hospice so everyone who enters the building can see it. We are very proud of this achievement and we were honoured to win it.

Personally, to be involved in this was one of the highlights of my career."

Caroline Taylor
Head of Income, Marketing and Communications
Find out more about Derian House Children's Hospice and donate here.
Want to get involved?
We're on the look out for our Charity Of The Year 2022! The nominations for this year's award will officially open on the 7th July 2022 – could you be in the running?
 We're looking for nominations from your staff, volunteers and supporters. The more you get before the 22nd of July, the greater your chance of being shortlisted. 
You could be joining the rest of our fundraising finalists, who'll be up for public vote between the 3rd of August and 11th of September 2022.
Get the most votes, and we'll be handing over a trophy to you and your team at our ceremony in London this October. Your charity will get exposure and social media coverage – and you get a fantastic night to celebrate your team's hard work. Sound good?
We'll be sharing the nomination link on the 7th of July. We can't wait to read your amazing applications and celebrate together!
Helmsley Trust awards $9 million to American Heart Association | Philanthropy news
The Leona M. and Harry B. Helmsley Charitable Trust has announced grants totaling $9.3 million to the American Heart Association/American Stroke Association to expand and enhance rural health and stroke care in Iowa.
A $6.3 million grant will support the American Heart Association/American Stroke Association's $7.5 million Mission: Lifeline Stroke initiative to strengthen the full spectrum of stroke care in Iowa, where stroke is a leading cause of death, accounting for more than 1,400 deaths in 2020. The stroke program in Iowa builds on a $4.6 million grant awarded in 2015 to support the launch of Mission: Lifeline STEMI in Iowa to reduce treatment times for acute cardiac care in the cases of ST Segment Elevation Myocardial Infarction (STEMI).
The Helmsley Trust is also granting $3 million to the American Heart Association (AHA) to launch HeartCorps in rural communities in Iowa, Minnesota, and Wyoming. HeartCorps is a new three-year initiative aimed at establishing a sustainable pipeline of public health workers, reduce cardiovascular risks among rural residents, and accelerate the adoption and implementation of systems changes to improve cardiovascular health.
"We believe that a comprehensive approach is the best way to make the most substantial impact, especially for rural populations that face longer transit times and limited access to specialists," said Helmsley Trust board member Walter Panzirer.
(Photo credit: Getty Images/Chalabala)