Maggie May's Greatest Hits on Philanthropy Women
As one of our most prolific writers at Philanthropy Women, Maggie May deserves a special tribute. Two and a half years ago, Maggie May started weaving her mighty creativity into stories on gender equality funding and strategy, and now that she is leaving us for greener (and higher paying) pastures, we want to make sure we give her a proper send-off that represents all she has done for our publication, and for gender equality strategy and funding as a whole.
Maggie May wrote 190 articles for Philanthropy Women over her time with us, an incredible amount of productivity for a young writer. She helped discover and narrate the stories of many undervalued women leaders of our time, and did so with power, insight, and clarity. Her work ranged from personal interviews to covering events to exploring the difficult questions about who gets funding and why.
So without further ado, here is a breakdown of some of Maggie May's greatest hits.
Funding for Women in Film: Spring Grants List: Where Can Female Filmmakers Find Money?
In six months time, this post has been one of our top performers. The truth is that there is very little good information out there in the funding world for women, information that is desperately needed in a time when more women are looking for ways to realize their creative capacities, and more people than ever are awakened to the valuable differential of women's vision.
Misogyny in Video Games: What Can Feminist Philanthropy Do to Address Sexism in Video Games:
The video games industry is rife with sexism and misogyny, most of which has barely been touched by activism. Maggie May did several several posts on the topic of gamer culture and the ways that gender equality activists can help address the problem.
Water and Women: The International Battle for Women's Water Rights
Another great hit was Maggie May's post on how women leaders are intervening both in the US and abroad to ensure women have access to water. Tying together environmental causes and gender equality causes was one of the main themes here at Philanthropy Women, and Maggie May's writing helped elucidate these issues on many different levels.
LGBTQ Focus: Dear America, Why is Canada Leading the Charge for LGBTQ+ Funding?
Wondering about the big questions, like why America can't compare to Canada when it comes to funding for LGBTQ+ issues, was another one of Maggie's specialties.
Talking About her Generation: Where are Young Women in Philanthropy?
Maggie also gave voice to issues around Millennial women and how and why they give to charity. This topic is another largely unexplored area of journalism that Maggie May fearlessly delved into.
Covering Movement Activity for Women: #SayHerName: What Feminist Givers Can Do For Breonna Taylor
Some of the most important activism in feminism — the efforts to raise awareness around violence against women and girls of color — was in Maggie's crosshairs and got coverage from her mighty creative virtual pen.
Maggie May's Amazing Live-Blogging Posts
Maggie May attended all of our webinars here at Philanthropy Women and did a wonderful job of capturing the voices and themes of these events.
The webinar events we produced included:
Due Diligence and Risk-Taking in Gender Lens Investing
Faith and Philanthropy with Feminist Leaders: Liveblog
Feminist Giving IRL: Hear From the Top Tier Winners
Liveblog: Women in Media Changing the Game
Liveblog – What Donors Can Do About Lack of Funding for Women and Girls of Color
Liveblog: Funding to End Violence Against Women of Color
Gates Leaders on COVID: Liveblogging New IUPUI Series
Liveblogging the Feminist Giving Universe
Maggie also covered lots and lots of other big feminist events online:
Liveblog: Generation Equality and a Blueprint for a Gender Equal World
How Justice and Giving Intersect with Philanthropy Together
(Liveblog) Building Multicultural Leadership with Ready to Lead
Feminist Giving for COVID: Strategies and Models (Liveblog)
(Liveblog) Leveraging the Unique Power of Women's Collective Giving
(Liveblog) Realigning Powerful Systems by Valuing Health and Equity
(Liveblog) What Does Feminism Look Like in Biden-Harris Future?
New York Women's Foundation on Social Justice and Philanthropy
(Liveblog) Strategies for Giving in COVID Economy with A Call To Men
(Liveblog) Empowering Gender Equality with ERA Coalition
(Liveblog) MIT Solve Welcomes 14 Grantees for Women and Girls
WMM Summit: Vicki Saunders on Women's Radical Generosity
(Liveblog) Ready to Lead Webinar: Black and Latinx Girls Speak Out
Liveblog of WPI: How Giving Circles Diversify Philanthropy
There is more, so if you want to see the full archive of Maggie May's work, it is available here. I wish we could have kept Maggie May writing for us because I believe her work is more impactful than most people realize. But I have no doubt Maggie will go on impacting the world with her writing talent and her deep appreciation for social justice and women's rights. Thank you, Maggie, for all the fine work you have done.
Related
Survey finds weakening donor sentiment in 2022 | Philanthropy news
Fifty-four percent of donors in the United States have a negative view of the direction of the country—alongside growing concern with inflation and recent losses in the stock market—signaling weaker donor sentiment in 2022 and driving near-term pessimism among donors, a report from Dunham+Company finds.
Based on an online survey conducted in April 2022 of 1,400 American donors who gave at least $20 to charity in the past year, the report, Donor confidence falters in light of economy and inflation (5 pages, PDF), found that despite a 15-percentage point increase from last year in the share of respondents saying they did not "feel good about" the direction the country was going in, 98 percent said they intended to continue giving—up from 97 percent in July 2021. The share of donors expressing caution about their giving rose modestly, to 63 percent from 59 percent. Among donors who said they would continue to give, 21 percent intended to give more (compared with 19 percent in 2021), 24 percent planned to give less (compared with 21 percent), and 55 percent intended to give the same (compared with 61 percent).
According to the report, the number of donors who viewed recent stock market losses as determinant of future giving had nearly tripled since last year, rising from 7 percent to 19 percent overall, and even more acutely among donors 45 and older: 23 percent for Gen X donors (up from 8 percent in 2021) and 21 percent for boomers (up from 6 percent). This shift is mirrored in households making $100,000 or more, where 17 percent (up from 5 percent) view the performance of the stock market as a determinant. While the report did not provide data on donors under the age of 45, it noted that boomers, who tend to give more overall, "expressed significantly less caution about giving than their younger counterparts."
The report suggests that worries about inflation and the potential for an economic downturn are increasingly affecting donor sentiment. Over half of donors (53 percent) were unsure of the direction of the economy or believed it would decline in the coming year (compared with 36 percent last year). Among donors who expect a downturn, 92 percent believed a turnaround would take more than a year (up from 72 percent in 2021), while those believing a turnaround would take two years or more rose to 54 percent (up from 40 percent a year ago). In 2021, 74 percent of donors indicated "the economy" and "personal financial situation" as reasons for giving less. For the most recent survey, Dunham added "inflation and the increased cost of living" as a factor. All told, these three factors accounted for 89 percent of the reasons for giving less in 2022.
(Photo credit: Getty Images/Pineapple Studio)
Charity Of The Year: Past Winners
With the Charity of The Year nominations just around the corner, we thought we'd take you on a trip down memory lane and revisit some of our past winners. We caught up with the incredible teams at Derian House Children's Hospice and the British Hen Welfare Trust, to find out just how much the award meant to them!
To find out more about how to nominate your charity for the Charity of the Year Award, head to the bottom of this page.
The British Hen Welfare Trust (2018 Winners)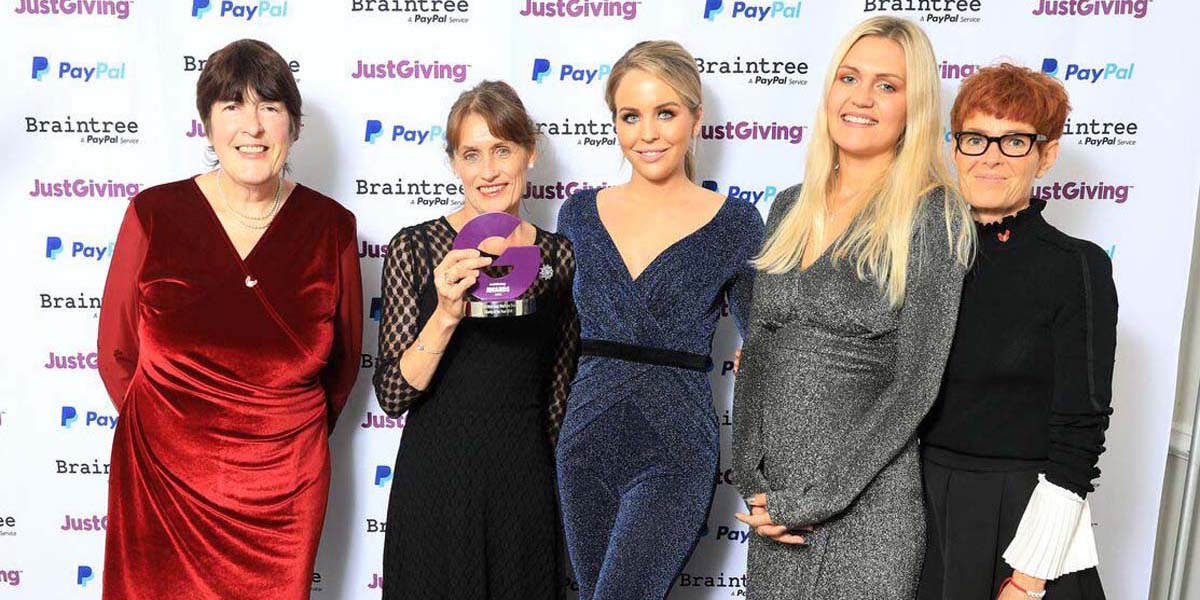 The British Hen Welfare Trust were crowned Charity Of The Year back in 2018 – after making the top three, they received the most nominations and were presented with their award at a glittery awards ceremony in London.
Since 2005, the charity has been rescuing hens from slaughter and re-homing them as pets throughout the UK. Working with farmers in the egg industry, they've re-homed an incredible 850,000 hens to date! The founder, Jane Howorth, received an MBE for her work, after bringing about a ban on battery cages in 2012.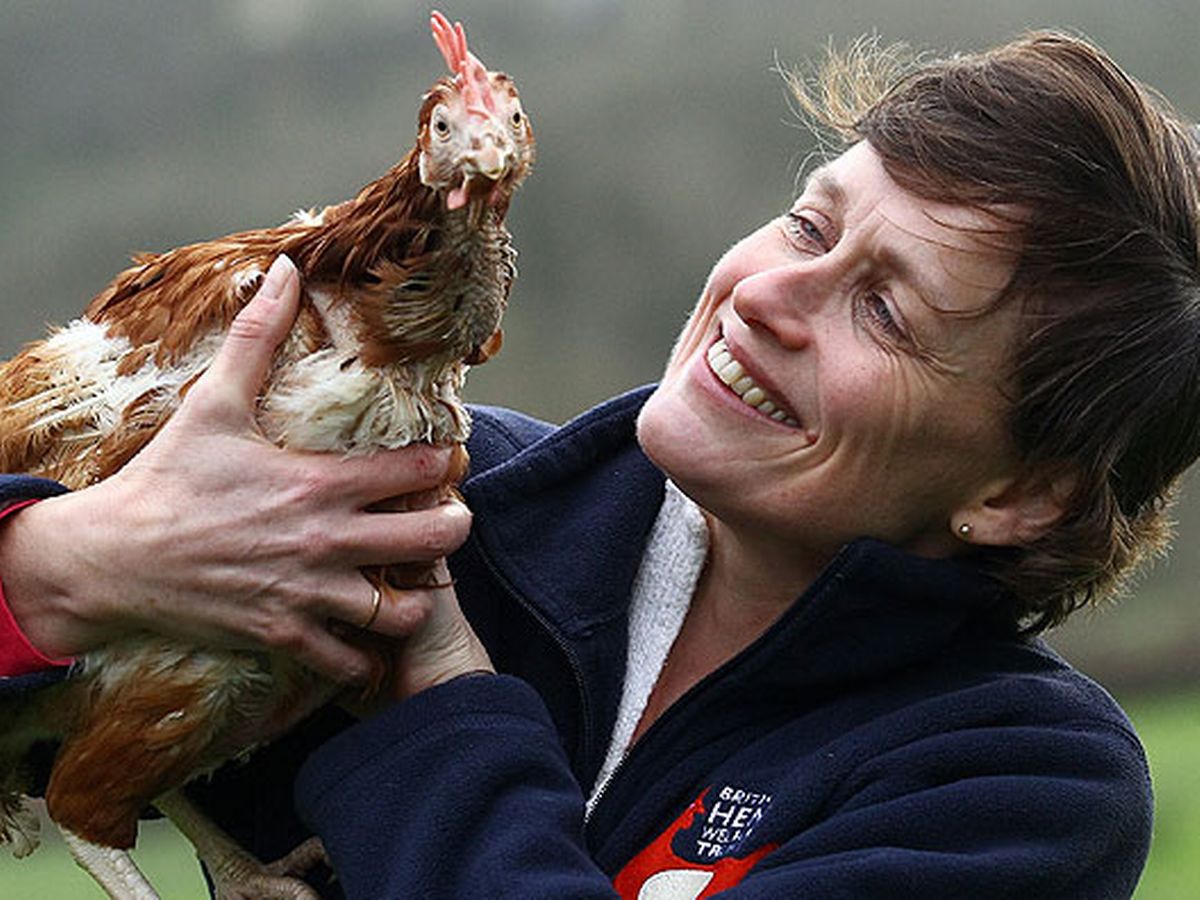 We recently reached out to the team at BHWT to ask them about their experience receiving a JustGiving Award.
"As a charity that is run by a fairly small team, it was simply phenomenal to be recognised by the UK's biggest fundraising platform and we were overwhelmed to have so much support from the public who nominated us for the award.

We may be small, but we make a big impact, since 2005 we've saved over 874,000 hens from slaughter. To be named Charity of the Year is a testament to that hard work and the successes achieved by our staff, volunteers, and supporters around the country.

The past couple of years have been tough for all charities, including our own, but we continue to save around 50,000 hens from slaughter every year. Since winning the award, we've developed more ways to improve education about pet hens, built a new Hen Central, and reached new audiences internationally. Being named Charity of the Year was a great honour, and still fills me with pride."

Jane Howarth MBE
Founder of BHWT
Find out more about the British Hen Welfare Trust and donate here.
Derian House Children's Hospice (2019 Winners)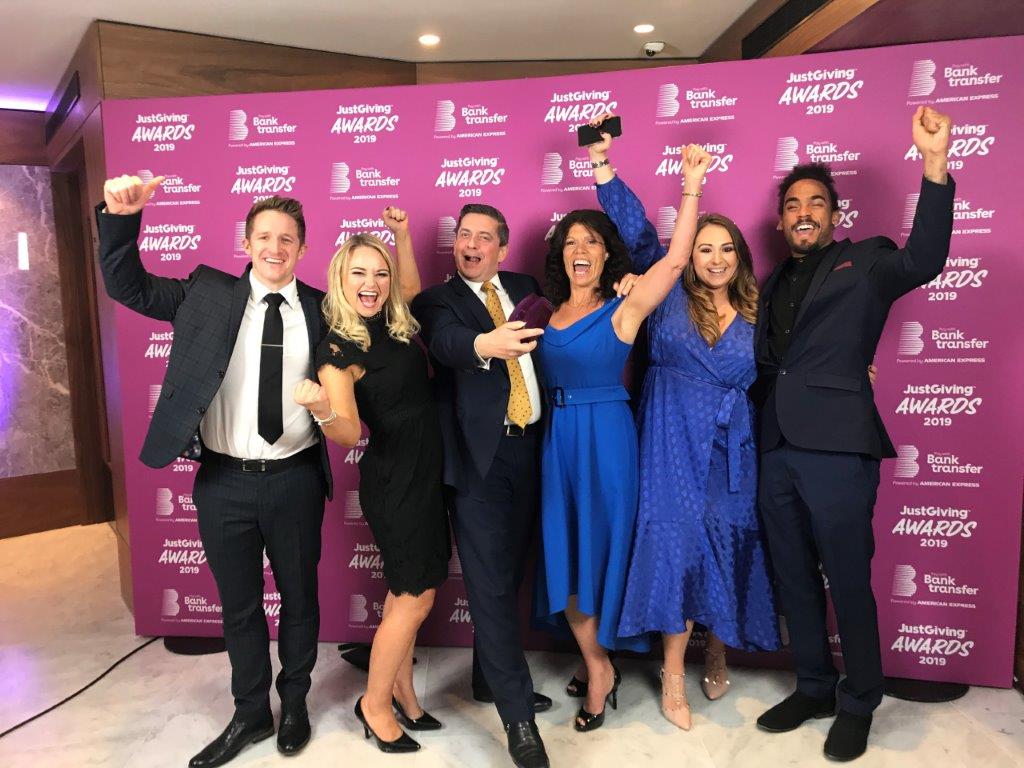 Our 2019 winners, Derian House Children's Hospice, work tirelessly to help children and young people, whose lives are too short, to make happy memories in an environment of fun, respect and outstanding care.The care they provide is free for families, but costs around £5.7 million to run every year – only 17% of the funding they need comes from the government. They rely entirely on donations from supporters for the remaining 83%. They provide vital support to young people and their families – offering palliative care, respite stays, day care, holidays and end of life support.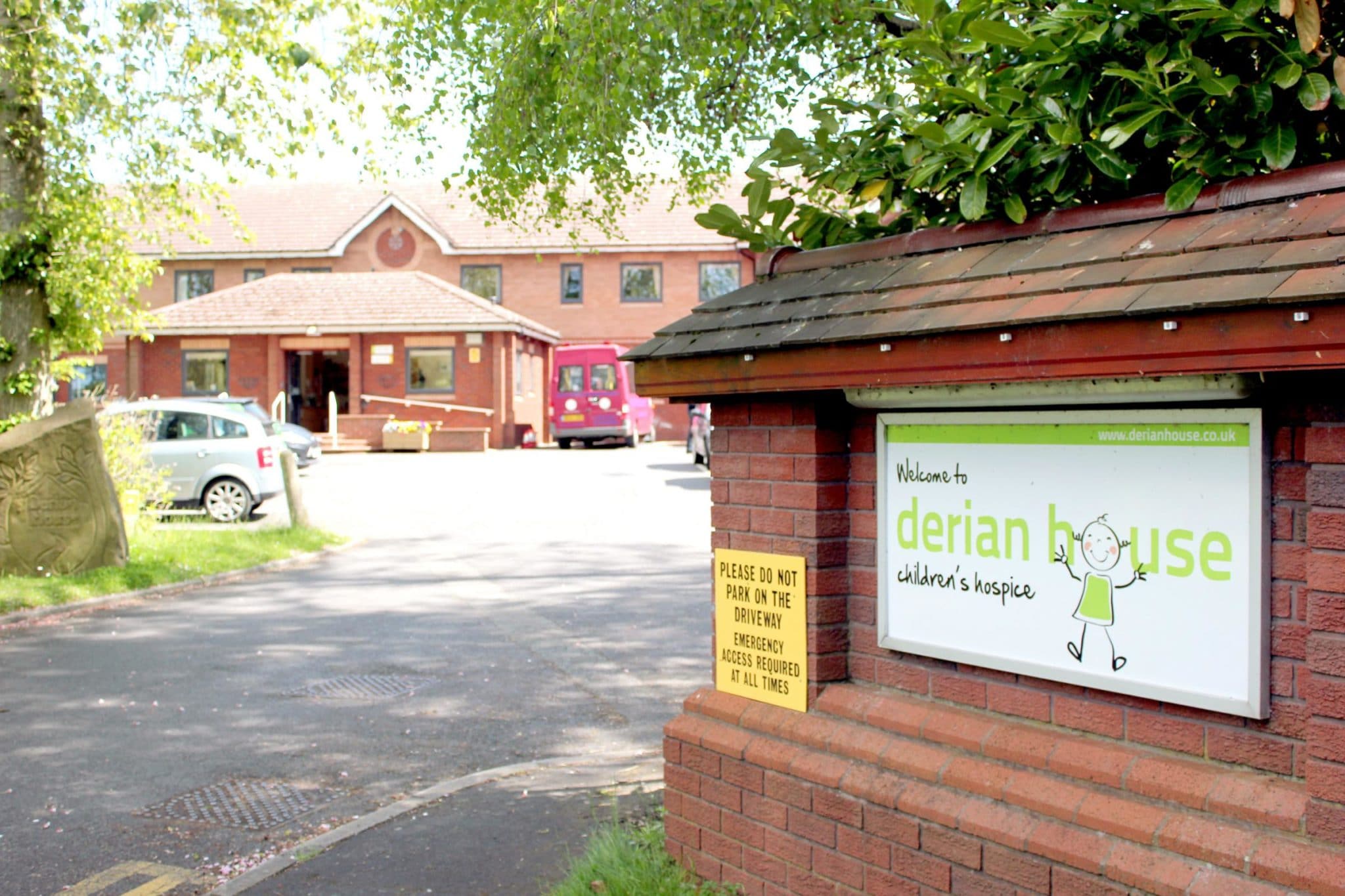 We'll let the team tell you a little more about the award, and how much it meant to the charity…
"Derian House Children's Hospice winning the JustGiving Charity of the Year Award is one of the achievements we're most proud of. 

That same year we had been rated outstanding by the Care Quality Commission (CQC) and had just completed a million-pound refurbishment of our hospice and winning the award felt like the icing on the cake. 

It not only gave us brilliant exposure, meaning that we attracted new donors and were able to reach new families with our services, but it also felt like a real chance for our staff, volunteers and the children we look after to feel proud of everything we do at Derian House. 

The awards night itself was so exciting. We travelled down to London for the night and were so honoured to be at an event alongside such inspirational and wonderful people, as well as celebrities and sporting legends. There was a real feeling in the air of everyone celebrating each other's achievements, which was just lovely. 

At Derian House, we display our JustGiving Award in the reception of the hospice so everyone who enters the building can see it. We are very proud of this achievement and we were honoured to win it.

Personally, to be involved in this was one of the highlights of my career."

Caroline Taylor
Head of Income, Marketing and Communications
Find out more about Derian House Children's Hospice and donate here.
Want to get involved?
We're on the look out for our Charity Of The Year 2022! The nominations for this year's award will officially open on the 7th July 2022 – could you be in the running?
 We're looking for nominations from your staff, volunteers and supporters. The more you get before the 22nd of July, the greater your chance of being shortlisted. 
You could be joining the rest of our fundraising finalists, who'll be up for public vote between the 3rd of August and 11th of September 2022.
Get the most votes, and we'll be handing over a trophy to you and your team at our ceremony in London this October. Your charity will get exposure and social media coverage – and you get a fantastic night to celebrate your team's hard work. Sound good?
We'll be sharing the nomination link on the 7th of July. We can't wait to read your amazing applications and celebrate together!
Helmsley Trust awards $9 million to American Heart Association | Philanthropy news
The Leona M. and Harry B. Helmsley Charitable Trust has announced grants totaling $9.3 million to the American Heart Association/American Stroke Association to expand and enhance rural health and stroke care in Iowa.
A $6.3 million grant will support the American Heart Association/American Stroke Association's $7.5 million Mission: Lifeline Stroke initiative to strengthen the full spectrum of stroke care in Iowa, where stroke is a leading cause of death, accounting for more than 1,400 deaths in 2020. The stroke program in Iowa builds on a $4.6 million grant awarded in 2015 to support the launch of Mission: Lifeline STEMI in Iowa to reduce treatment times for acute cardiac care in the cases of ST Segment Elevation Myocardial Infarction (STEMI).
The Helmsley Trust is also granting $3 million to the American Heart Association (AHA) to launch HeartCorps in rural communities in Iowa, Minnesota, and Wyoming. HeartCorps is a new three-year initiative aimed at establishing a sustainable pipeline of public health workers, reduce cardiovascular risks among rural residents, and accelerate the adoption and implementation of systems changes to improve cardiovascular health.
"We believe that a comprehensive approach is the best way to make the most substantial impact, especially for rural populations that face longer transit times and limited access to specialists," said Helmsley Trust board member Walter Panzirer.
(Photo credit: Getty Images/Chalabala)