Product Update: August 2021 | JustGiving Blog
We have some exciting updates to share with you this month, including our ongoing commitment to online security, JustGiving's expansion overseas, an update to In Memory pages and the latest news about Giving Checkout.
Two-Factor Authentication is Rolled Out
This year, we are releasing two-factor authentication as a requirement for all administrator accounts. We have been rolling out the requirement to some users already and expect everyone to leverage two-factor authentication by the end of the year. Keep an eye out for an email from us, we will give you a heads up 10 days prior to your account being updated.
Two-factor authentication is a version of multi-factor authentication, which is an electronic validation method in which a user is granted access to a website or application only after successfully presenting two or more pieces of evidence. You may be familiar with this experience when logging into other systems that require you to enter a code that is texted or emailed to you in order to access the program. This is a heightened verification approach that uses something you have, something you know, or something you are (like a thumbprint or face scan) in order to grant access.
This enhancement requires you to enter your username and password first. Then, a six-digit code will then be emailed to you, and you will submit that code in order to successfully log in. You will receive a prompt to submit a new code every seven days, upon log in.

By releasing two-factor authentication, we can fortify the security which keeps your donor, fundraiser and organisation's data even safer on JustGiving by Blackbaud. This is an industry standard approach to ensuring each user is who they say they are and to keep your data safe and secure.
JustGiving Launches in Canada
JustGiving, known in Canada as Blackbaud Peer-to-Peer Fundraising powered by JustGiving, launched in the region on July 6th this year.
This followed an early adopter programme (EAP) that saw a handful of Canadian non-profit organisations trial our peer-to-peer fundraising platform throughout 2020 and the first half of 2021. To date this EAP has raised over $1.3m in donations for a number of amazing causes.
"We've already seen so much good generated by this tool. It has helped more than 27 million users around the world raise billions of dollars for the non-profits and causes they care about. In fact, Canadian organisations have already raised over a million dollars during our early access programme," said Allan Hoffmann, president and general manager of Blackbaud's operations in Canada.
"We're putting easy-to-use fundraising technology in the hands of Canadians who are ready to take action—that's what we're most excited about. We look forward to celebrating fundraising achievements led by Canadians."
In Memory Update
We've taken the opportunity to update the performance and design of our In Memory collection pages.  
These pages sit at the /remember domain and act as a collection of all fundraising efforts towards a given individual that our community wants to honour and remember. It includes a list of all fundraising pages connected to the cause, and a list of all charities associated with the fundraising effort who will receive funds as a result of the donations received.  
Crucially we've moved this page to a new mobile responsive view and brought it in line with our existing fundraising and team page designs. All pre-existing In Memory pages have been seamlessly moved to this new design and we've ensured that all data has been successfully migrated across. 
Giving Checkout Update
We are excited to let you know about the latest update to our fee free direct giving tool – Giving Checkout. You can now choose between three to five suggested donation amounts to display in your Giving Checkout.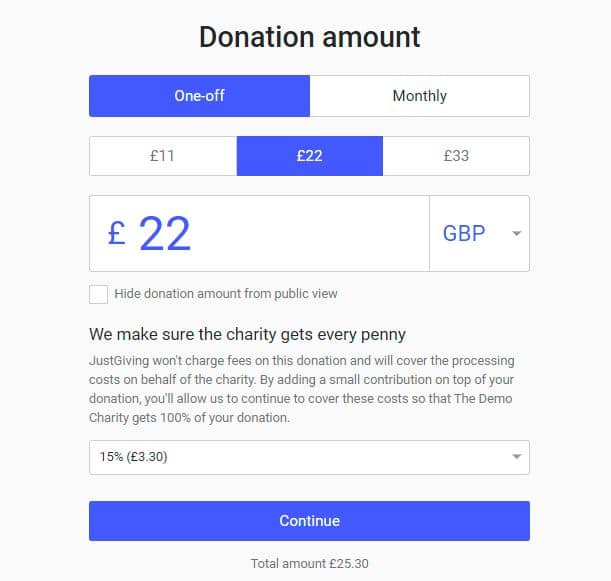 Soon, you will be able to add text prompts for these suggested amounts, a new feature we'll be releasing over the coming weeks – for example, "£100 gets you 99 bottles of water".  This customisation will  appear in the dynamic preview  now available in the Giving Checkout area of your charity account. 
Candid launches 'U.S. social sector' dashboard | Philanthropy news
Candid has launched a U.S. Social Sector Dashboard, a free resource designed to "demystify" the sector by providing data on its scope, constraints, and potential.
Developed with funding from Amazon Web Services and Vanguard Charitable, the dashboard offers key data and insights about the makeup and impact of civil society, including previously unreleased statistics on the racial composition of leaders and funding flows to charities. According to the dashboard, the social sector, which employs 12.5 million people, comprises more than 1.81 million nonprofit organizations: 501(c)(3) charitable organizations (80 percent), which include public charities (73 percent) and private or community foundations (7 percent); 501(c)(4) advocacy and social welfare groups (4 percent); 501(c)(6) business associations (4 percent); 501(c)(7) social and recreation clubs (3 percent); labor unions and other 501(c)(5) groups (3 percent); and fraternal societies categorized as 501(c)(8) and 501(c)(10) organizations (2 percent).
According to the dashboard, religious organizations currently make up 18 percent of public charities, followed by those focused on human services (17 percent), community and economic development (15 percent), education (14 percent), sports and recreation (8 percent), arts and culture (7 percent), philanthropy and nonprofit management (7 percent), health (7 percent), and the environment and animal welfare (4 percent). In terms of funding flow, in 2018 public charities received $292 billion in contributions from individuals, $76 billion from foundations, $40 billion from bequests, and $20 billion from corporations; $174 billion in government support; and $1.6 trillion in earned income.
And among reporting nonprofits, 60 percent of CEOs identified as white, 10 percent as Black, 5 percent as Latinx, 3 percent as Asian/AAPI, 1 percent as Native American/Indigenous, 3 percent as multiracial/multiethnic, and 1 percent as additional ethnicities, while 17 percent did not disclose. Among board members, 66 percent were white, 15 percent Black, 7 percent Latinx, 5 percent Asian/AAPI, 1 percent Native American/Indigenous, 2 percent multiracial/multiethnic, and 0.4 percent additional ethnicities, while 4 percent did not disclose.
"Candid exists to get people the information they need about the social sector to do good. Many of our tools focus on one organization, one grant, or one issue at a time; that kind of focus can be critical for decision makers," said Candid executive vice president Jacob Harold. "This new dashboard builds on that focus by offering a fuller picture of the social sector as a whole. We hope that this tool will help people build a better understanding of the nonprofit and philanthropic ecosystem and its central role in our society."
(Photo credit: GettyImages/Prostock Studio)
UW–Madison receives $20 million for Letters & Science building | Philanthropy news
The University of Wisconsin–Madison has announced a $20 million lead gift from brothers and alumni Jeff Levy ('72) and Marv Levy ('68, JD '71) in support of a new academic building in the College of Letters & Science.
Construction on Irving and Dorothy Levy Hall, named for the parents of Jeff and Marv, is expected to begin in 2023 and be completed in 2025. Once complete, the building will establish a unified home for the Department of History and nine other L&S academic departments, programs, and centers that currently are spread across eight facilities on campus. The five-story building will feature nineteen classrooms as well as a space where students can gather and interact informally with each other and their instructors to maximize collaboration.
The Levy brothers own and operate Phillips Distributing Corporation in Madison. Their commitment was contingent upon the Wisconsin state legislature and governor including the project in the 2021-23 state budget with $60 million in state support, which occurred earlier this year.
"We envision this vital new facility as a highly collaborative and state-of-the-art learning environment for all," said College of Letters & Science dean Eric Wilcots. "We are immensely grateful to the Levy family for their support of this vision. Our students deserve classroom space that enhances interactive learning and engagement through cutting-edge technology. They also deserve a building that inspires, rather than intimidates. The Levy family's gift will reverberate through future generations, touching many lives."
"We are proud to help make this building a reality. We hope it will be a central educational location for the undergraduate experience at UW-Madison," said Marv Levy. "Our hope is that by honoring our family legacy of charitable giving with this gift, we can offer to future generations some of the opportunity that the UW has provided us."
U.S. nonprofit sector uneven in impact and recovery, report finds | Philanthropy news
While nonprofits have contributed significantly to U.S. society and economy in the face of the COVID-19 pandemic, the health of the sector is uneven in both impact and recovery, a new report from Independent Sector finds.
Based on aggregated survey and research data from multiple sources in four categories — financial resources, human capital, governance and trust, and public policy and advocacy — the second edition of the Health of the U.S. Nonprofit Sector (43 pages, PDF) found that the impact of the COVID-19 pandemic varied by subsector and organization size, with arts organizations and those that rely on fees for service hit especially hard. Yet, even as 40 percent of nonprofits saw declines in total revenue and all subsectors except social services saw drops in gross output, the sector contributed 5.9 percent of GDP in 2020 — up 0.4 percentage points from 2019. And while 57 percent of nonprofits cut overall expenses, 64 percent suspended services, 44 percent reduced the number of programs or services, and 47 percent reported serving fewer people in 2020, Independent Sector's Trust in Civil Society survey found that, as of early 2021, 57 percent of surveyed Americans had received nonprofit services and 84 percent expressed confidence in the ability of nonprofits to strengthen American society, up 3 percentage points from 2020.
According to the report, the sector's advocacy efforts in 2020 helped secure notable federal resources that served as financial lifelines to nonprofits, particularly through the Paycheck Protection Program, payroll tax credits, and temporary universal charitable deduction. In addition, a study by Nonprofit VOTE found that voter engagement efforts helped reach underrepresented communities and narrow participation gaps.
The report outlines recommendations in each category to strengthen the sector, including prioritizing flexible funding, developing a shared understanding of equitable financing, promoting evidence-based practices to close workforce diversity and equity gaps, building capacity of virtual volunteering, improving the quality and depth of metrics for equity and "healthy" governance, improving digital access and literacy, and establishing public policy advocacy as a core competency of nonprofit management and governance.
"We have much to do to build the nation we, as changemakers, dream of becoming," wrote Independent Sector president and CEO Dan Cardinali in the report's foreword. "What can galvanize us to greater positive action? It's that the everlasting human qualities of resilience, kindness, and collaborating for collective progress do not fade easily. They are within our grasp every day, giving all of us hope and confidence. The health of our nation is the sum of the richness and diversity of our members and sectors working together, elevating dignity, honoring our differences, and building for the common good."
(Photo credit: Los Angeles Regional Food Bank)